GameTruck@HOME - A Contactless Video Game Party Delivery Service
GameTruck@HOME is the premier provider of contactless video game rentals for your next event or party. We deliver the equipment, sanitized, safe, and secure to your front door. No contact required.
Are you looking for a video game party option without the germs? Want a gaming party option that does not involve allowing outside workers inside your home? Looking for a trusted partner to deliver an at-home video game party that you plan?
If you answered yes to any of these questions, GameTruck@HOME is the right choice for your next party or event!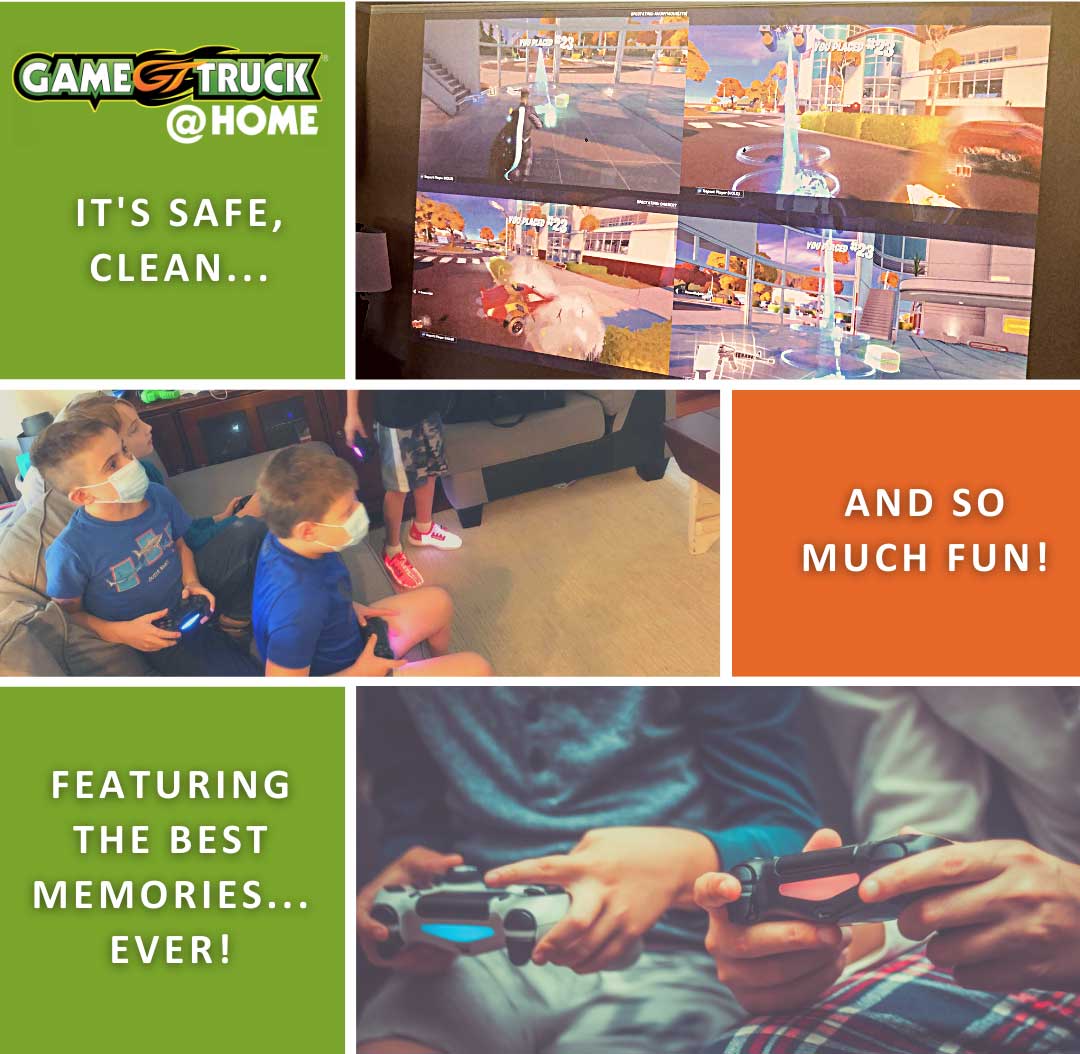 Here are three reasons why GameTruck@HOME is awesome:
It's clean.
We take cleanliness very seriously. Our video game rental bundles are sanitized and sealed before each delivery ensuring a contactless party option for you and your guests.
It's easy.
You do not have to let anyone inside your home. Our expert staff will deliver your video game party rental bundle straight to your front door at your selected time.
It's fun.
The best games and consoles. This service features the latest and greatest consoles and games including Nintendo Switch, Xbox One and Playstation 4.
GameTruck@HOME is your one stop shop to contactless party fun! Our expert gamers and game coaches created a video game rental bundle so awesome; you'll feel like you've won the video game party lottery!
Request a party today!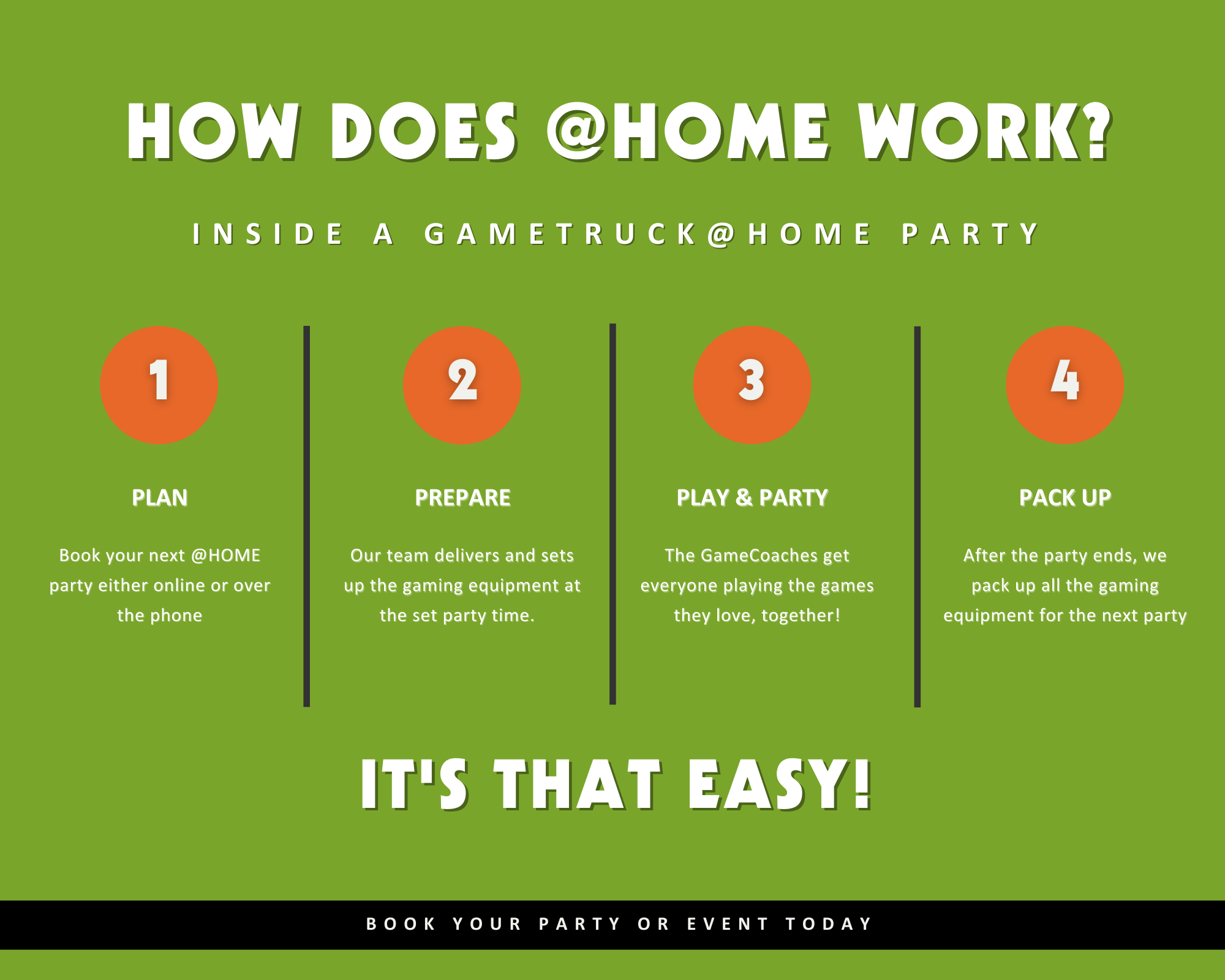 Here what you can expect with GameTruck@HOME:
The Latest and Hottest Consoles! We load this bundle with Nintendo Switch systems, Playstation 4's, and/or XBOX 1's. All delivered to your doorstep in a contact-free, sealed box, sanitized and germ-free!
GAMES, GAMES, GAMES! We pack each box with the latest and greatest games! From Fortnite to Roblox, we include several games you want to play, and perhaps some you didn't even know you wanted! Games can be included and accommodated upon request. We update our games regularly so some games are subject to change, check with your local owner for more details.
An Epic Party Experience. GameTruck is the industry leader in video game parties and we know how to deliver an epic party experience. We have packed this germ-free, contactless bundle with all the tools you need to put on the best party possible.
With video game party bundles like that, your guests will be flying, running, jumping and having a blast playing their favorite games on their favorite consoles.
The bundles come with an assortment of games - call for details!
How Does GameTruck@Home Work?
We understand that safety and cleanliness are particularly important to you and your guests. That is why we created an easy, safe, and contactless delivery process.
Here is how the delivery process works:
Book Online or Call. Get started by booking your event online. Select the date and time to schedule, then click Book Now. Or just give us a call!
Drop-off. Our team drives to your home and drops-off the bundle at your start time.
Pick-up. Pack it all up and have the equipment ready to go at your designated pickup time. We come pick it up.
Sanitize and disinfect. After we pick up the bundle, we sanitize, disinfect, and seal the equipment for the next party.
Once your equipment is delivered, the fun and excitement begins!
Your guests can play together in-person, in a physically-distanced space, or online through gaming friend codes. We will provide a phone number for technical support from one of our expert GameCoaches during your rental period if you need some help.
Our team makes everything simple. From the booking process to dropping off, and picking up, our team is committed to delivering an amazing party experience!
So what are you waiting for? Book your next GameTruck@HOME party today!