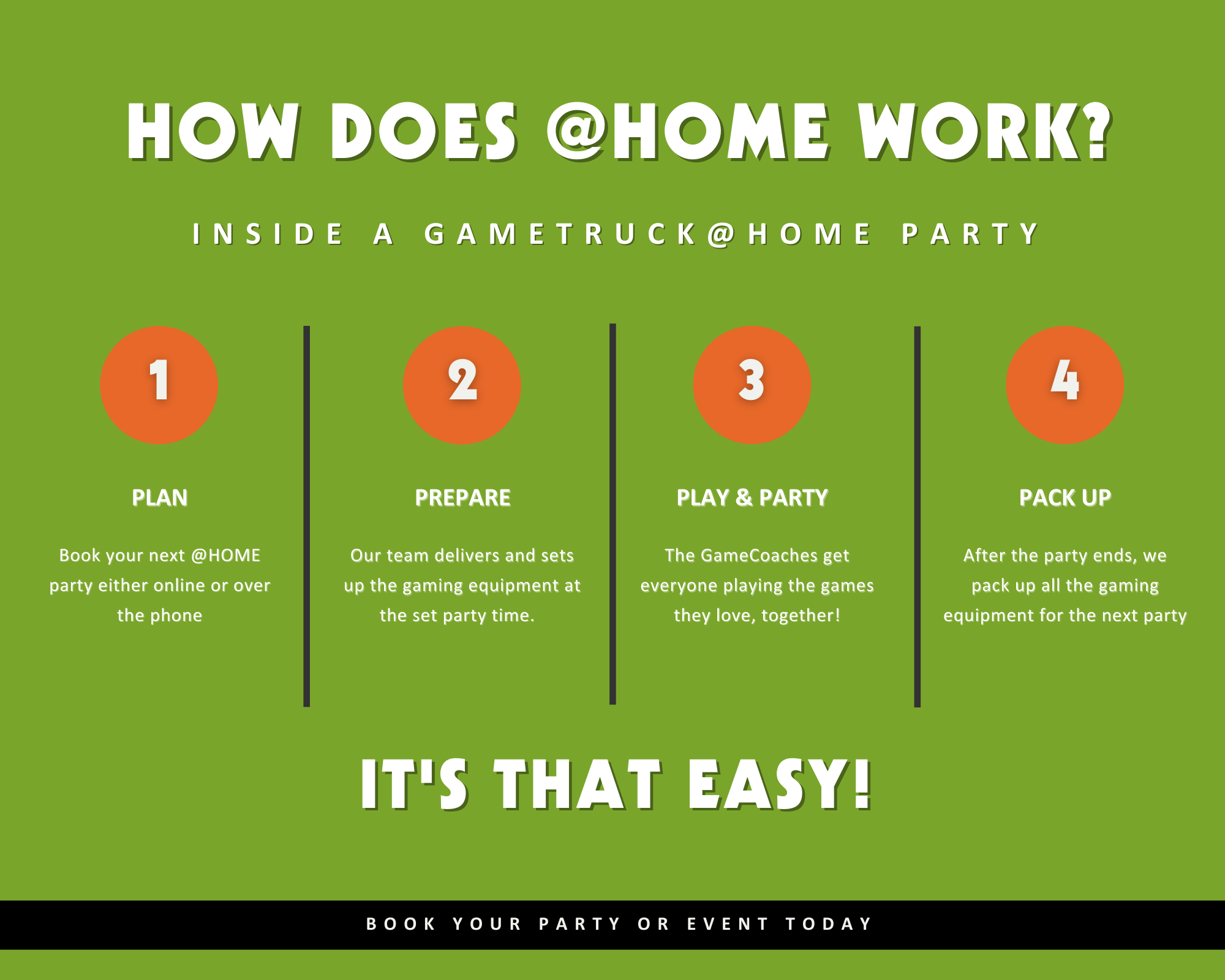 Here what you can expect with GameTruck@HOME:
The Latest and Hottest Consoles! We load this bundle with Nintendo Switch systems, Playstation 4's, and/or XBOX 1's. All delivered to your doorstep sanitized, germ-free, and ready to rock!
GAMES, GAMES, GAMES! We pack each box with the latest and greatest games! From Fortnite to Roblox, we include several games you want to play, and perhaps some you didn't even know you wanted! Games can be included and accommodated upon request. We update our games regularly so some games are subject to change, check with your local owner for more details.
An Epic Party Experience. GameTruck is the industry leader in video game parties and we know how to deliver an epic party experience. We have packed this experience with all the tools you need to put on the best party possible.
With this video game party, your guests will be flying, running, jumping and having a blast playing their favorite games on their favorite consoles.
The bundles come with an assortment of games - call for details!
How Does GameTruck@HOME Work?
We understand that ease and cleanliness are particularly important to you and your guests. That is why we created an easy, safe, and fun in-home party experience.
Here is how it works:
Book Online or Call. Get started by booking your event online. Select the date and time to schedule, then click Book Now. Or just give us a call!
Arrival. Our team drives to your home and unloads the equipment at your designated party arrival time. The team will handle all the setup of the gaming equipment.
The Party. Our GameCoaches know how to bring the fun. They will be there to be sure everyone is playing, help if anyone gets stuck, and offer advice on which games to play next. They can even organize some friendly competition for your guests if you'd like!
Clean up. Our team will pack it all up and have the equipment out of your way in a flash.
Sanitize and disinfect. After we leave, we sanitize, disinfect, and seal the equipment for the next party.