Virtual Gaming Parties
Introducing a new way to party!
Virtual gaming parties are here, book yours today. Are your kiddos craving a gaming party experience, but everyone is stuck at home? GameTruck is rolling out a new virtual party experience that lets kids play together, even if they can't be in the same room! We are taking some of the best parts of our gaming parties and creating a virtual offering that is safe, easy, and tons of fun.
What is a Virtual Gaming Party?
Glad you asked! A virtual gaming party is a party that connects everyone through a private chat room, even when they are miles away.
It's Online. Instead of coming to your home, we create a private virtual party space for all your guests to join together, remotely.
It's Safe. We create a private chat server that only you and your guests can access. Our GameCoach focuses on keeping the group together while they branch out to games online during the party.
Remotely Connected. Your guests can stay in their homes too, and join us, remotely.
We Bring the Coach. The GameCoach makes this happen and makes it a party. They connect everyone, help share friend codes, and monitor the fun.
BYOG - Bring Your Own Games. Since you'll all be staying home, you'll need your own gaming equipment and games.
Parties Typically Last an Hour. You're free to keep playing after, but the GameCoach will need to move on to their next party.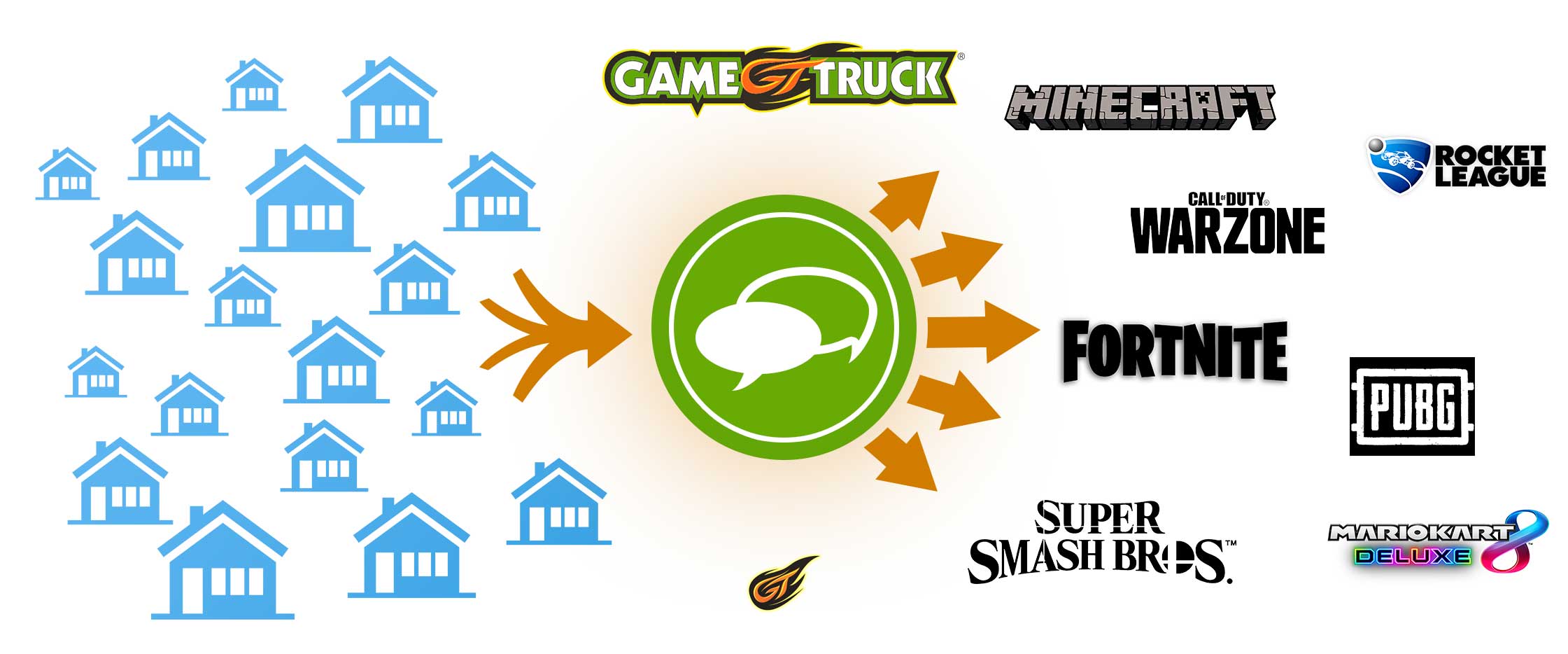 How does it work?
Great question! Virtual gaming parties are stress-free by design.
When you book, you'll receive a confirmation email - hang on to this!
At least 48 hours before the event, we will create your own private chat server for your party and invite you, the host, to join it.
When you receive your invite, join the chat and invite your guests. Don't worry, we will provide you with instructions.
Your personal party GameCoach will arrive on your chat channel about 15 minutes before the event time you've selected and begin setting things up.
During the event, the GameCoach will help all your gamers connect with friend codes, orchestrate matches to help players join up with each other in various games, and moderate chat keeping things civil between players.
You'll have access to chat too, so you can keep an eye on things.
When your event time is done, playing can continue, but the GameCoach will need to go to their next party. We will leave the chat server open for you and your guests until the end of the day.
Our expert, experienced, videogame-centric team will provide the same first-class service that our parties are known for. We look forward to serving you and your family soon!
Request a party today!
FAQs
How many can join and play?
Up to 24 guests can join and play at your virtual gaming party.
Is there an age limit?
We recommend this experience for ages 8 and up.
Do you still come to my house?
Virtual gaming parties are held online and do not include a personal visit from our team.
Who can join the party? Is it private?
Only you and your guests can access the party. The secure connection is safe and private.
What games/consoles can be used?
Most multiplayer games on Nintendo Switch, Microsoft Xbox One, Sony Playstation 4, Personal Computers and even Mobile devices can all be used during your virtual gaming party.
What equipment will I need accessible?
Virtual gaming parties may require common devices, consoles, systems and games between you and your other party members. Nintendo Switch, Microsoft Xbox One, Sony Playstation 4, Personal Computers and even Mobile devices can all be played during your virtual gaming party.

In addition, while your party will have chat accessible for guests to communicate with one another, having access to a microphone or headset will enhance the experience of playing with your friends by allowing voice chat between you and your party members.
Do I need the same device, console or system to play with my friends?
It is recommended to have platforms in common with your friends, however, many major titles now also offer cross-platform play. It is recommended that you discuss this topic with your friends prior to the party so everyone knows what you want to play and can be ready to make the most of your time and get right into the action!
Will online play require any subscriptions?
Depending on the console and platform you're playing from, some online content may require additional purchases to play or utilize specific services. This varies based on the title and platform but if your child already plays the game, it's likely they already have everything required to play it.
What does the GameCoach do?
The GameCoach is the virtual gaming party facilitator. They get the party started, help guests connect, and monitor the chat between players.
How is this different from my kids playing at home?
The virtual gaming party experience is different than playing at home for a few important reasons:
Virtual gaming parties are supervised by the GameCoach.
The GameCoach is a video game expert with experience working with children.
We offer incredible technical support and set the party up quickly.
You can either take a break from watching your children, or get work done if you are working from home with confidence that your child is gaming in a safe environment.
Do parents need to supervise?
Parental supervision is optional. The GameCoach is the primary supervisor for virtual gaming parties.